by Mike -
Here are pictures of Shelby (AC) Cobra CSX 2001. Yes, this is the first production Cobra made, now owned by Bruce Meyer.
In July 1962 this car was shipped to the dealer Ed Hugus of European Cars in Pittsburg, Pennsylvania. Ed Hugus installed the engine and transmission and made the car road worthy.
This Cobra went through a couple of owners, was modified to racing specs and then sold to an owner in France where it spent its time either racing or being driven on the street until Bruce Meyer discovered this special Cobra in 2006 and brought it to California.
It originally had a 260 cid engine but was later fitted with a 289 cid engine for racing, which is the engine it has today. Rack and pinion steering was also added.
Bruce Meyer had the car painted black but it retains its original chassis and interior. The seats in these pictures are covered.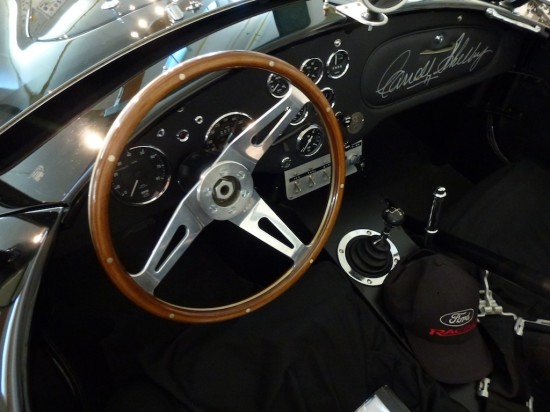 Read more about Cobra and Tiger and a Cobra 289.
Click on the images for a larger view.
Sign up for the My Car Quest Membership. For about 10 cents US per day you get full access to all of the Premium Articles.

Click on the button below and then click on the blue tag in the lower left of the Membership Page and become a My Car Quest Member!

It is easy – all you need is a Credit Card or PayPal. Click below.