by Mike –
I have never seen this hot rod in person but I do have the shirt!
How many cars have their very own limited edition embroidered silk shirt? I don't know the answer but I suspect that it is not many.
This shirt is the Limited Edition Design No. 44 made by Nat Nast. I bought this shirt many years ago not expecting to see the real hot rod embroidered on the back.
You would recognize Nat Nast shirts if you ever watched the TV shows The Sopranos or Two and a Half Men. Nast Nast was the shirt of choice for the lead character in both shows.
Enough about fashion on to this hot rod…
1927 Ford Model T Track-Nose Roadster by Jack Thompson
This Hot Rod was sold by RM Sotheby's for $145,600, including fees at the recent Petersen Automotive Museum Auction 2018 in Los Angeles, California.
RM Sotheby's wrote,
* An authentic and period-correct early SoCal custom

* Originally built and then restored by the who's-who of hot rodding

* Presented at the finest custom shows and concours d'elegance

* An exceptional award-winning Track T

Jack Thompson's '27 track-nose Model T roadster was featured in the August 1958 issue of Hot Rod Magazine, photographed by Eric Rickman.

Hailing from Woodland Hills, California, Thompson's classic Track T roadster was one of the best of the early feature cars. Its sharp black body rested on boxed early Essex rails – a favorite with hot rodders half a century ago. It was built in 1954 by an all-star cast. Streamlining was thanks to a Claude Hampson (Kurtis-Kraft Racing) custom-built track nose.

Finishing touches included a chopped windshield, louvered side panels, and '39 Ford teardrop taillights. Race car-inspired nerf bars, front and rear, echoed the car's well-executed circle track theme. Authentic Kelsey-Hayes wire wheels, early Ford hydraulic brakes, and a tubular front axle provided the right running gear. A three-speed '39 Ford gearbox, with a curved floor shifter, was fitted with a '42 Lincoln-Zephyr close-ratio first and second gear cluster. The legendary Tony Nancy did the upholstery, and Art Summers was responsible for the pinstriping.

The engine, a modified Ford flathead, was stuffed with the best speed equipment of the period. A '37 Lincoln radiator was cut four inches, mounted at a 45-degree angle, and topped with a high point header tank. Inside the cockpit, there was a banjo steering wheel from a 356 Porsche and a full set of Stewart-Warner gauges on an engine-turned dash panel.

Restored by Gary Schroeder (of Schroeder Steering fame) and Rick Cresse (Tri-C Engineering), the modified T won the coveted Bruce Meyer Preservation Perpetual Trophy, the "Von Dutch" Award for the best pinstriping (this time by Tom "Itchy" Otis), and the trophy for the Best Altered T at the Grand National Roadster Show in 1997. It also participated in the first Historic Hot Rod Class at the Pebble Beach Concours d'Elegance, later that same year.

George Gray (Van Nuys) did the repaint and Dan Miller (Westlake Village) re-did the interior in Carmine Red Naugahyde. In 2007, this car won the "Excellence in Design" Award at the Art Center School of Design show in Pasadena.
Let us know what you think in the Comments.
Comments on My Car Quest now allow photos and other attachments!
Please continue to follow the Comment Rules.
Summary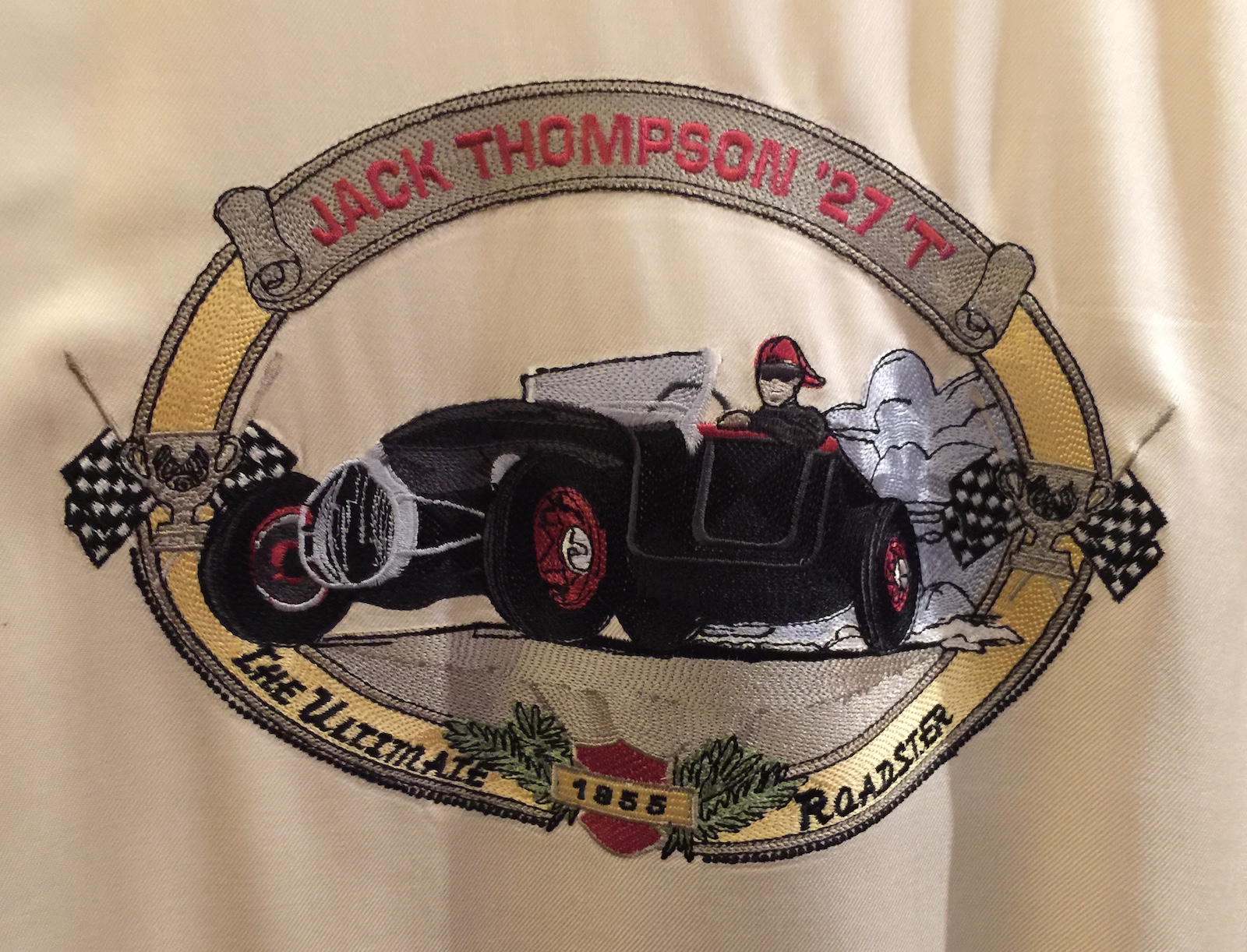 Article Name
Jack Thompson '27 Ford Model T Roadster Sold (Shirt Not Included)
Description
This one of a kind Hot Rod Roadster sold at auction recently. The custom embroidered silk shirt is not included. I bought this shirt many years ago not expecting to see the hot rod embroidered on the back.
Author