UPDATE: The Hino (BRE) Samurai Race Car has been found in storage in Southern California for the benefit of the owner in Japan. The person who has this race car in storage contacted me more the one year ago and wrote this,

Hello  Michael,

I know the whereabouts of the Hino Samarai, hidden away in my So. Cal. Garage. I am trying to locate Mr. Satoshi Ezawa so that he can retrieve his car.

We have stored it for over 20 years.

I tried to help this person over the last year but I lost contact with her and Ron Bianchi… 
by Mike Gulett –
Ron Bianchi, a My Car Quest reader, contacted me asking if I knew the whereabouts of the Hino (BRE) Samurai race car. I replied that I did not which led to Ron sending in his story.
Ron Bianchi once owned and raced the Hino (BRE) Samurai and then sold the car to Peter Brock, its original creator. The same Peter Brock behind the styling of the Shelby Cobra and Brock Racing Enterprises (BRE).
Today Hino Motors is a Japanese manufacturer of trucks, buses and engines and is part of Toyota. Once they were involved in motor racing.
BRE, with the help of the great Troutman-Barnes team, created this unique race car which was featured on the November 1967 cover of Road & Track. Brock had a vision to enter this car in the 1967 Japanese Grand Prix and he aspired to race it at the 24 Hours of Le Mans. The Japanese Grand Prix officials decided that the Samurai did not have sufficient ground clearance and the car was disqualified.
Before the Samurai Brock got his start in racing Japanese cars with Hino and had a great success driving the 1300cc Hino Coupe winning the 1966 Times-Mirror race at Riverside Raceway. Another BRE Hino came in second. This all led to Brock getting involved with Nissan but that is another story.
by Ron Bianchi
I began racing sport cars in 1958 with the then California Sports Car Club soon to become a part of the Sports Car Club of America (SCCA); then on to IMSA and an FIA license.
Prior to that I had raced midgets both on the Red Circuit on the East Coast with a few midget races in California.
My sports car racing career spanned well into the late 1970s. I raced production models to prototypes.
Some of my most memorable starts and finishes were a first, second, and third in three different classes in four different sports car Grand Prix races.
For the most part I drove for automobile dealerships and private owners. In my career I have owned but two race cars of my own.
Hino Samurai
The most challenging was the Hino Samurai.
I was driving a Porsche at Riverside Raceway in California for Mr. Bud Patterson when I first noticed what I thought was the sharpest race car I had seen in years – the Samurai.
I went over and spoke to the owner. I had no idea it was Mr. Terry Hall whom I had raced against in the Porsche class several years earlier.
Terry was very disappointed at having put a connecting rod through the engine block of the Samurai during his race in C Sports Racing. Terry complained that he just could not get the race package together and hinted that he might sell the Samurai.
Several months passed and I did not see the Samurai entered in any races. I called Terry and was told the Samurai was for sale, and he asked if I was interested. An appointment was made and a deal was struck. There were literally hundreds of spare parts but no manuals available. Of the four engines, all stripped, there was a push rod engine and parts for three twin cam engines, plus the blown engine in the chassis. The side windows had been removed, there had been slight but repaired damage to the nose section.
I took the Samurai to my shop where it sat for the remainder of the race season while I continued to race for Bud Patterson driving his Porsche.
I was introduced to a mechanic that said he could put a twin cam engine together from the parts for the new season. He would set up the chassis and go through the braking system. After many delays we entered our first race about one quarter into the season with disastrous results. The engine did not produce enough horsepower, the brakes were less than what I expected and the chassis was a handful to control. I tried another mechanic with the same negative results.
I was contacted by a race engine company that was interested in installing a Fiat engine in the Samurai for the purpose of creating publicity for their engines. The working relationship was not there!
Building the team
I decided to form my own complete race team.
The first thing was to talk to camshaft companies. I settled on one and had them profile a set of camshafts. Then it was off to a race engine machine shop. This engine was assembled, dyno tested and showed promise but I was not comfortable with the power band. The engine seemed to be more in tuned to a dragster engine.
The first race with the new engine and the qualifying went fine. During the race the engine went flat, lost power.
Back to the drawing board and a new cam builder. This one knew exactly what I needed.
After a complete rebuild and during the installation of the engine into the chassis late into one night we developed a heating problem. A gentleman was standing at the opening to our garage looking at us work. He asked what the problem was and could he lend a hand. The guy was fast and in no time had located and fixed our problem. I felt I owed him something but he refused any payment.
I extended him an invitation to be my guest at the next race to be held at Riverside Raceway, which he accepted. I picked him up at his home at the appointed time. For the remainder of the day at the racetrack he was not to be seen. We had a fourth or fifth place finish as I remember. As we were loading up he returned, when we arrived at his home he invited me in to meet his wife. Both spoke with a heavy accent, I learned she was from Holland and he had been raised in Germany and Holland. I asked if he was into racing.
Both looked at me strangely and I was invited to look at Mr. John Hamilton's trophy room. The room was full of trophies and photos of John with the Mercedes racing team. Seems he had been a 550-motorcycle champion in Europe, joined Mercedes with the race development department and supported his son Freddie driving twin-engine go-carts. Freddie had several wins and I believe two go-cart championships at the time.
John joined our team of one! The guy was a past master at machine work and preparing a race car but light on engines.
I was told about a young man just in from England that was working in a local Jaguar service department that may have a racing background. I called and spoke to Mr. Paul Albertson; an appointment was made for a meeting at our race shop. Paul did not show. Several evenings later this unlikely looking thin, about a hundred pounds soaking wet guy with a thick British accent entered the shop. Apologized and said his wife would rather that he did not get involved with the race crowd again. Paul had letters of completion and recommendations from International race drivers and had worked for the Cosworth race engine department and had the portfolio to prove it.
Paul joined our team of two.
Next came Paul White. Paul was into tires, compounds, pressures, etc.
Enter Paul W. into our team of three.
Sorting out the Samurai
For the next race season we tried to sort the Samurai out. It seemed we could not finish a race. We would qualify well in front then things would start to happen. I lost the brakes in one race, an oil line coupling broke costing an engine, a brand new throttle cable bound during a race while the peddle was full on the floor; one more engine.
We replaced the rear up-rights with brand new magnesium ones, the right rear one broke during a race sending me into a wild ride, I lost fifth gear while leading, a brand new right rear tire went down during a race, I would enter a corner at the same set up and without warning the Samurai would, snap, swap ends going into a hair raising skid or spin.
I had a solid first place when the engine blew on a back straight away on the last lap.
Paul A. was trying to get all he could out of the engines but he felt we were on the edge but not there yet. I was about ready to give up on our engine project.
During one of our post race meetings at the shop I was convinced to keep going with what we had.
I decided to contact Ed Iskaderian the cam builder. I had used Ed's cams in my midget days. Ed asked me to bring in the engine specs. I was introduced to Mr. T. Willie Hutchens who was instructed to do a work up for my engine. In about an hour T. Willie came in and said they could produce two sets of cams, one for a maximum of 8200 RPM, the other for a maximum of 9200 RPM, both with a power band of 2000 RPM.
Ed waived the price for old time sake. If I would put his decals on the car, with the promise to supply cams till we get it right.
A couple weeks later U.P.S delivered the four new cams.
Paul A. did his magic with the engine. On the dyno the engine came alive and developed the horsepower we were looking for.
I had always been into chassis tuning and decided to visit Red LeGrande's race car shop, the manufactures of the Samurai chassis. Red had produced several winning chassis.
After several discussions with Red I decided to go it on my own and re-do the suspension. I had read and studied the results of placing the attachment points for the rear A arms as close to the center of the rear frame as possible. We completely re-worked the suspension.
John had completely up graded the braking system. Paul A. had the combination to developing horsepower. Paul W. knew what tire compounds and pressures we needed for different track conditions. I had dialed in the chassis. The next step was testing.
A competitive race car
We went to Willow Springs Race way in California to do our testing. By the end of the day we knew we now had a competitive race car.
The very next race we finished first in class.
For the next four years the Samurai never failed to finish less than fifth with a total of over twenty-five first and about half again as many second place finishes, with two class championships.
I had made a personal promise to myself that when I grew tired of racing I would stop.
Ron Bianchi retires from racing
During a race at Riverside Raceway as I was coming down the back straight away I asked myself what I was doing. My foot came off the throttle, I headed into the pits, and the crew came over the wall wanting to know what the problem was. I said simply "we are through racing".
I re-located to the southern part of the United States where the Samurai sat in a rented garage for several years.
Peter Brock
Mr. Peter Brock the designer of the Samurai and a prominent figure with the Hino Samurai racing project, among other outstanding race cars, contacted me several times wanting to know if I would sell the Samurai. I knew Pete from being around the Shelby Cobra operations. Pete is well known for the Shelby Cobra, Shelby GT350 Mustang as well as the Shelby Daytona Coupe.
Finally Pete and I agreed on a price and the Samurai was his once again. Pete in turn sold the Samurai to a Japanese gentleman I had the pleasure to meet and entertain at my home, a Mr. Satoshi Ezawa.
Satoshi contacted me and said he had purchased the Samurai and would I be agreeable to him coming to America to discuss what had been done technically to turn the Samurai into a winner.
I am still in contact with Satoshi. It is my understanding that the Samurai has been totally restored and is in the Satoshi Hino collection.
~~~
Ron Bianchi has heard recently that the Samurai may be back in the US and he wanted to know its whereabouts.
If anyone has any information about the location of the Hino (BRE) Samurai please send me a message (michael.gulett@gmail.com) and I will relay it to Ron.
Let us know what you think in the Comments.
This article was originally published in two parts in September and October 2012.
Summary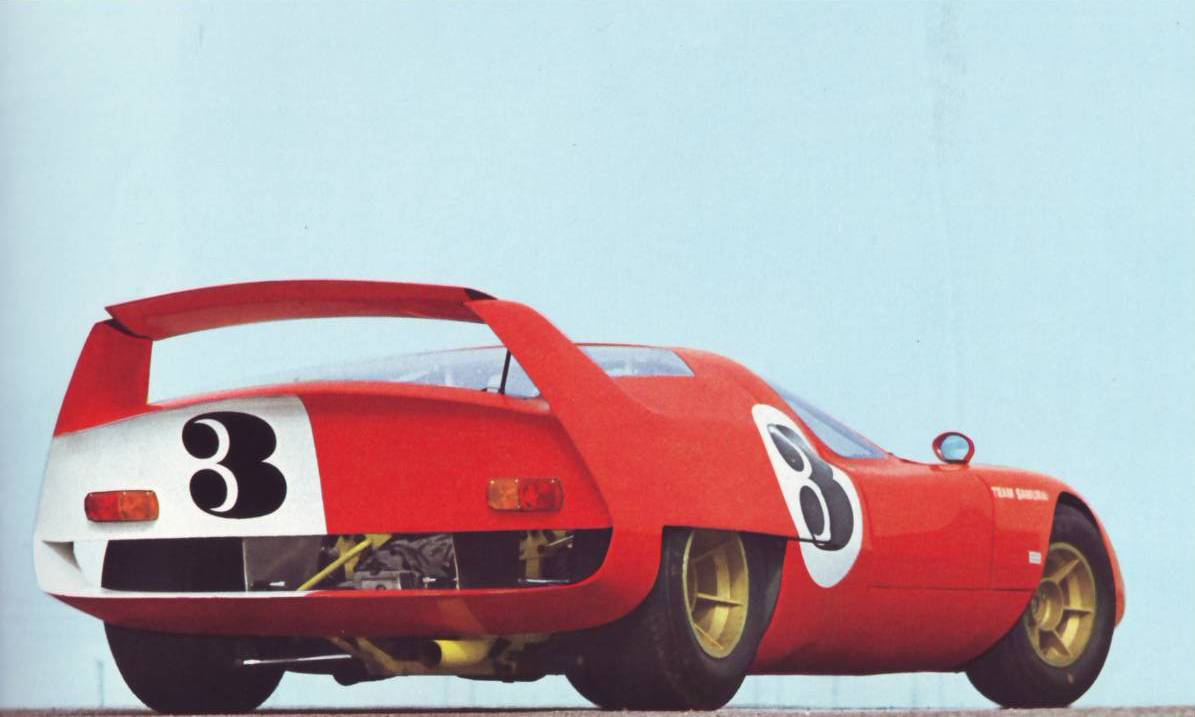 Article Name
The Hino (BRE) Samurai Race Car - Lost But Not Forgotten
Description
NOW FOUND: A long lost race car - the Hino (BRE) Samurai.
Author