by Wallace Wyss –
I saw my first Bizzarrini in a magazine around 1965 when it wasn't even a Bizzarrini yet. It was an Iso Grifo Corsa and it was probably Motorsport magazine. They raved about it. Later Ing. Bizzarrini left Iso and started building the same design under his own name.
That story changed my direction in life. I was in the library to read poetry, being a poet at the time, but saw the magazine. After I read the story, I became a 100% car fan and changed my major so I could write car ads.
I was living in Detroit and tried to tell friends about this Italian car with a Corvette engine but they failed to share my passion. At the ad agency where I wrote ads for Chevy, my boss Dick Wingerson said if I wanted to see an unusual car, go over to this place called The Vette Shop and see this weird Italian bodied Corvette.
I went. It was a Bizzarrini Spyder. I told the shop owner if the Bizzarrini owner wants to sell it I could come up with seven grand. I never got an answer. A few years later I'm in Malibu and I see the same car parked outside a house. I leave a note. No answer.
Then a few years later I see it–the same damned car– in a gas station in Vegas with a flat tire. I leave a note. No answer.
Finally, at a car show I meet the owner. From Livonia, near Detroit. He bought it from his brother for like $3,000 back in the Sixties. His brother bought it from his dad who got it from a partner who had invested in Bizzarrini in turn for a loan after meeting the car builder in a bar.
Long story short, it was one of three Bizzarrini open cars. The same Detroiter had another stroke of luck. Decades later, he was in Italy visiting Ing. Bizzarrini and he asked whatever happened to the silver mock up prototype of the open car?Bizzarrini said it wasn't a mock up but in fact a running car. He took the Detroiter over to the man who owned it and there it was–a running car (except for a missing carburetor which could easily be replaced in Michigan).
I kicked myself after hearing this story. I had believed Road & Track in their caption on a picture of the car in an auto show report that they had run decades earlier, where they said it was never finished (And I had been to Italy several times after reading that but never bothered to look for the car–I had assumed Road & Track was telling the truth. But the Detroiter didn't take photo captions as seriously as I did).
Once I moved to SoCal in '69, I would run into Bizzarrini coupes. Nobody seemed to know what I was talking about. The cars weren't in circulation. They weren't in museums. They weren't racing. There was no automaker touting them. They were the amazing unknown marque.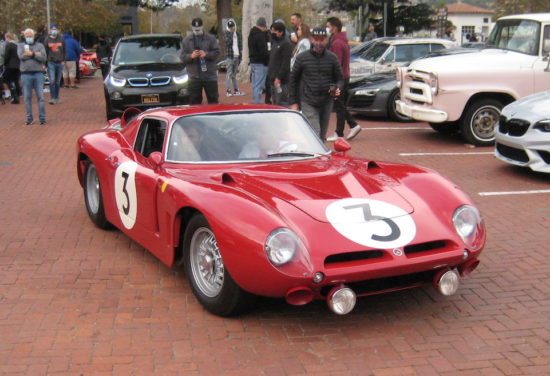 Then I became a part time barn finder. I'd go all over the US buying exotics for a syndicate in NYC. They didn't care about condition–just rarity. I found one white Strada coupe in the midwest but it had been parked outside for years. In a state where cars rust. The local bank couldn't believe I was willing to pay $30,000 because the owner of the car was such a local loser.
I next bought a real clean white one from a real estate investor in the high desert in California I didn't even ask him if it was for sale. I just drove out there with a check for at least 60K and said "I'm here for the car" and he sold it. I drove it for three days, taking my friends for rides, laying rubber so many times, I fried the clutch.
I next bought one all apart from an architect that owned two houses, one in LA's West Side and one in the Bay Area. He was selling the LA house so didn't want to bother moving the car. I bought it apart, and sold it to a famous customizer, who insisted on re-doing the nose to accommodate Ferrari 275GTB headlights. Later I found a collector willing to buy it, so I actually got paid for finding that car twice.
The one I remember most was the one I found at an actor's house in Huntington Beach. It might have been one I photographed before. He had three different ones at various times including a dark green one called a Bizzarrini GT America. I had met him years before when I was passing a movie studio and saw one of his Bitz's parked outside a bar across the street. I went in and demanded "Who owns that Bizzarrini?" and we met and talked about the car.
Years passed and one day I find myself meeting the same guy at this car club party at his home. After the party I asked him–do you want to sell it? He said "Yes", so I called up my New York connections and they sent a check. When I went to pick it up, his wife was crying as I drove the flatbed in front of his garage. She knew that brand was what had made him known in Hollywood. But he argued "Hey, I'm over 80. I ain't gonna get no more movie jobs." I towed it outa there, feeling wee bit guilty.
By that time, the '80s, Bizzarrinis were more known. They started appearing at car events like Concorso Italiano. The brand was no longer "My little secret" and prices were rising. When I think at one time I could have traded my GTC/4 for one, I kick myself because the GTC/4 was so expensive to fix that the whole time I had it I drove it on ten cylinders.
I see them once in awhile now, the most recent sighting in Paradise Cove in Malibu in maybe 2020 when by pure happenstance, I was standing out there on the beach at the crack of dawn when one rolled in. One car in a 1000 ft. long parking lot by the beach.
Just me and that car. I made three paintings of that moment, even commemorated that painting by putting a copy of the painting on my flight jacket. I think it's that way with a lot of enthusiasts. There's an obscure car they like but nobody they know has ever seen one. They go for years until finally others discover the car and by then it is too late to buy one.
I don't think I'll bother the guy in Detroit now. With me and Bizzarrini, it's just a case of unrequited love big-time….
Let us know what you think in the Comments.
THE AUTHOR/ARTIST: Now a fine arts painter, Wallace Wyss, has canvas prints available. He can be reached at Malibucarart@gmail.com




Summary
Article Name
Confessions: Our Contributor Tells of His Lifelong Passion for a (Previously Unknown) Marque
Description
I saw my first Bizzarrini GT 5300 in a magazine around 1965 when it wasn't even a Bizzarrini yet.
Author