by Mike –
Here is my pick for the classic car for sale today that I would like to own. I usually like the odd ball cars and I have been a fan of the Ferrari 250 GTE 2+2 cars for years even though they do not get much love from the traditional Ferrari crowd because of that back seat.
This Ferrari 330 GT 2+2 has an extra attraction, or detraction, depending on your opinion – the quad headlights. I love them but not everyone does.
If you take this car to an Italian car event like Concorso Italiano it will likely be the only one there and if there is another one it will be red instead of this beautiful dark silver.
1965 Ferrari 330 GT 2+2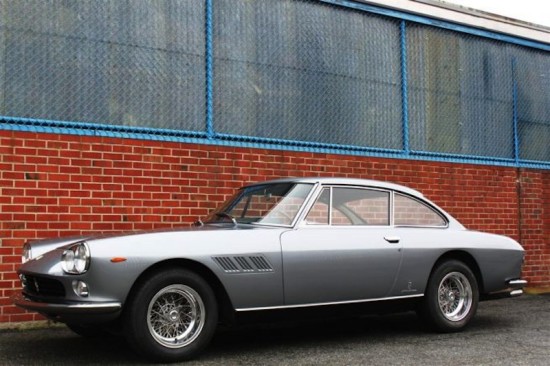 The seller says:
* Restoration efforts included the following, all of which was completed in the last 200 miles: Engine top end (valve job), rebuilt distributors with new caps, rebuilt shocks, brake rebuild with turned rotors, rebuilt calipers and master cylinder, new clutch, various front end suspension parts, new chrome inside and out, wheels rebuilt with stainless spokes and new tires, rebuilt carburetors, rebuilt starter, completely new paint, body rubber, and window seals throughout, refinished dash wood and steering wheel, and a new dash pad
* Very nice driver condition

* The paint is nearly free of blemishes with a few stress cracks on the hood, and other minor marks

* The panels are straight and the gaps generally good, although the trunk lid sits a bit high

* The chrome is excellent throughout, although two of the four chrome corners of the front windscreen trim are missing, and the finish on the exhaust tips is showing age

* The glass and lamps are excellent across the board, with only a few minor marks to the windscreen

* Interior is in excellent condition

* 32,307 km
This Ferrari 330 GT 2+2 is for sale on eBay and is located in Emeryville, California at Fantasy Junction.
The current bid is $90,000 and the reserve has not been met. I have to think it is getting close to meeting reserve.
~~~
This is a terrific color combination and will always stand out in the Ferrari crowd. The quad headlights will guarantee that as well so the combination is unbeatable. The cost of maintaining and restoring this Ferrari is the same as it's cousins that sell for several times more than this will sell for. This means that any buyer should be sure it is in good shape and that there are not any deferred maintenance costs.
And why does the "trunk lid sit a bit high" as the seller says and you can see in the photos. A question that needs answering among a few others.
Let us know what you think about this classic Ferrari in the Comments.

Subscribe to My Car Quest