by Mike –
I posted recently about Our Newly Acquired Lamborghini Espada and received several comments. One comment was from David Lang who mentioned his series 1 Espada with the early dashboard – and a GM 350 engine!
I'll bet you have never seen a Chevy powered Espada!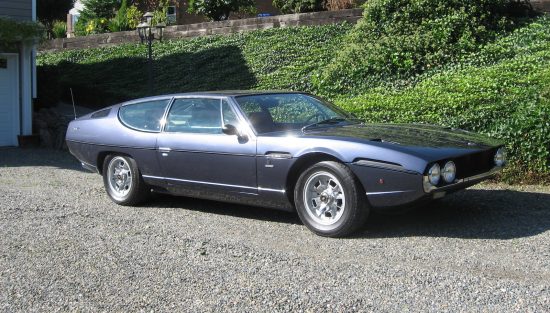 I asked for photos and David was kind enough to send these photos along with the note below.
Thanks for the invite to send photos of my 1970 series 1 Espada.

This is the "Lamborghini Espada with a Corvette motor" that I purchased from Gullwing Motors about five years ago.

A new GM 350 with Tuned Port Injection crate engine (no numbers) was installed along with a Borg Warner five speed transmission many years prior to my purchase. The car retains all original and working gauges, exhaust, running gear and other equipment original to the car. Also, the car was otherwise complete except for the engine and transmission.

The car, however, came with a major problem which probably lead to its sale. The engine, designed for use with serpentine belts, came with regular V belts. As a result of this mismatch the water pump was running backwards and the car overheated after a few miles of driving.

After this discovery I replaced the pump with an older model and problem solved.

David Lang
This is a beautiful Espada and when the hood is closed you can't tell it does not have a Lamborghini V12!
Let us know what you think in the Comments.
Summary
Article Name
A Chevy Powered Lamborghini Espada
Description
This beautiful Lamborghini Espada is powered by a Chevy small block engine.
Author