by Mike –
At the Monterey Car Week auctions in mid-August Lamborghinis are well represented on the auction block (22 as of today).
RM Sotheby's has 3: Miura P400 SV, Diablo VT Roadster and Countach 25th Anniversary.
Gooding has 4: 400 GT 2+2, Miura P400 SV, Countach LP400 'Periscopica' and 350 GT.
Bonhams has 2: Reventon and DL25 Tractor (probably the least expensive Lamborghini available in Monterey).
Mecum has the most with 13: 5 Diablos, 4 Countachs, 1 Miura, 1 Islero, 1 Silhouette Prototype and 1 Jarama.
Russo & Steele and Rick Cole both have none as of today.
There is a Lamborghini for every taste and just about every budget except I note that all of the old V12 models are represented expect the Espada.
Good luck if you are a bidder.
Here are some of my favorites:
1976 Lamborghini Countach LP400 'Periscopica' at Gooding
Estimate: $1,200,000 – $1,500,000
The Definitive Italian Supercar of the 1970s
A Most Desirable Countach; One of Approximately 160 Periscopica Models Produced
Iconic Marcello Gandini Design Executed by Carrozzeria Bertone
Matching-Numbers Example Restored by Marque Experts
Original Blu Tahiti Livery with Brilliant Two-Tone Upholstery

3,929 CC DOHC V-12 Engine
Six Weber 45 DCOE Carburetors
375 BHP at 8,000 RPM
5-Speed Manual Transaxle
4-Wheel Ventilated Disc Brakes
1966 Lamborghini 350 GT at Gooding
Estimate: $750,000 – $950,000
One of As Few As 120 Examples Built
Single Family Ownership for 47 Years with Less Than 10,000 Miles Shown
Highly Original, Including Factory-Upholstered Leather
Accompanied by Original Manuals, Sales Contract, Tool Kit, and Jack
Highly Desirable Example of Lamborghini's First Production Model

3,464 CC DOHC V-12 Engine
Six Weber 40 DCOE 2 Carburetors
270 BHP at 7,000 RPM
5-Speed Manual Gearbox
4-Wheel Girling Hydraulic Disc Brakes
Independent Front and Rear Suspension with A-Arms, Coil Springs, and
Tubular Shock Absorbers
1955 Lamborghini DL25 Tractor at Bonhams
Estimate: US$ 45,000 – 60,000 – To be sold without reserve
Engine no. 0359

2,504cc OHV 2-Cylinder Diesel Engine
Bosch Diesel Injection
25hp at 1,500rpm
4-Speed Manual Transmission
Hydraulic Rear Brakes

*Exciting piece of Lamborghini history
*Beautifully restored and ready for shows
*Working PTO for any farm use
*Fun and powerful early Lamborghini
1972 Lamborghini Miura P400 SV at RM Sotheby's
Estimate: $1,900,000 – $2,200,000
One of the final 10 Miura SVs built, to the ultimate "split-sump" specification
Originally delivered to South African aviator Captain Arthur Mechin
Well-preserved, very original condition, with original body panels and drivetrain
25,000 believed actual miles
An exceptionally original Miura SV

385 bhp, 3,929 cc DOHC transverse mid-mounted alloy V-12 engine with four Weber twin-choke carburetors, five-speed manual transmission, independent front and rear suspension with A-arms, coil springs with tubular shocks, and anti-roll bars; and four-wheel hydraulic disc brakes. Wheelbase: 98.42 in.
1969 Lamborghini Islero GTS Coupe at Mecum
Estimate: $450,000 – $500,000
Engine 4.0L
Trans 5-Speed
Color Red
Interior Black
VIN/Serial 6531

Highlights
Chassis no. 6531
1 of 100 GTS models produced
Comprehensive cosmetic and mechanical restoration be Lamborghini specialist Gary Bobileff
Approximately $150,000 invested in restoration
Less than 75 miles on rebuild
4.0/340 HP DOHC V-12 engine
6 Weber carburetors
4-wheel independent suspension
Coil springs and anti-roll bars
4-wheel hydraulic disc brakes
Believed to be 37,194 miles, metric odometer read 59,858 kilometers
Rosso Red over Tan leather interior
Woodgrain interior trim
Power windows
Original sales brochure
Owner's manual
Service records
2001 Lamborghini Diablo VT at Mecum
Estimate: $325,000 – $400,000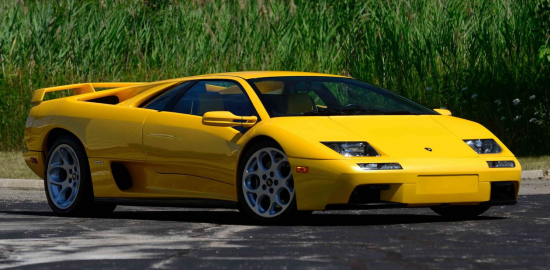 Trans 5-Speed
Color Yellow
Interior Yellow/black
VIN/Serial ZA9DU01B11LA12852

Highlights
13,676 original miles
US production car
Pearl Yellow with two tone leather
5-speed transmission
Last year for the Diablo
Carson fiber engine compartment
Tool kit
Extra keys
1 of less than 400 produced
Clean CarFax
1976 Lamborghini Silhouette Prototype at Mecum
Estimate: $275,000 – $325,000 – no reserve
Engine 3.0/250
Trans 5-Speed
Color White
Interior Black
VIN/Serial 40002

Highlights
One of two Silhouette prototypes built on a P300 Urraco chassis
Designed by Carrozzeria Bertone styling house
Silhouette prototype starred at the 1976 Turin Motor Show
First Lamborghini with a Targa roof
3.0/250 HP DOHC transverse, mid-mounted V-8 engine
Four twin-throat Weber 40 DCNF carburetors
Oil cooler
5-speed gated shifter
Single dry plate, hydraulically operated clutch
Integral chassis with steel body
Independent coil springs
Telescopic shock absorbers
Girling ventilated disc brakes
Campagnolo cast magnesium wheels
Reverse indent around the Silhouette badge (unique to the two prototypes)
2,728-pound curb weight
Factory-rated 0-60 MPH time of 6.5 seconds
Factory-rated top speed of 161 MPH
Let us know what you think in the Comments.
Summary
Article Name
Lamborghinis For Auction In Monterey
Description
Many Lamborghini classic cars are coming up for auction during Monterey Car Week.
Author