The Koreans challenge Europe's best in aerodynamics.
by Wallace Wyss –
The new 2024 Ioniq 6 electric sedan, due in 2023 as a 2024 model, sets a new record for Korean cars in coefficient of drag–.021. That's only one point higher than Mercedes' $100,000-plus EQS.
The new four seater is based on the E-GMP platform shared with a number of Kia and Hyundai EVs. They really went overboard to imitate the streamlined salt flats racing cars.
Basically it's the Hyundai Prophecy concept from 2020 made more usable. It ought to be worrisome to Porsche that it looks Porsche. Another influence from way back is the Infiniti J30. But it is not meant to unseat Porsche but to give some competition to Tesla's Model 3.
Underneath it's the E-GMP platform like its Kia EV6 and Hyundai Ioniq 5 relatives. Read a Hyundai Ioniq 5 review here. Though you think it' a hatchback, it is not. Head designer was SangYup Lee, executive vice president and head of Hyundai Design Center.
Remember discos in the '80s, this interior is like that with crazy colored lights, what they used to call mood lighting. And it'll be a tough choice to choose from 64 colors, including six dual color themes.
Uh, notice one thing–in some picture, no side mirrors. We weren't aware the law that governed those had changed–they may be thinking cameras can replace side mirrors. But maybe they'll try without asking permission in 2023. There are active air flaps at the front while out back an elliptical wing-style spoiler with winglets. They use recycled PET fabric and eco-process leather for the seats inside, and the carpet is from–egad–recycled fishing nets.
The main variations will be a single-vs dual-motor setups that range from 225 hp to 325 hp. Not much information was released. The base will be 58.0-KWH and the step up is a 77.4-KWH battery pack. The range could be up to 310 miles like the KIA EV6.
Base price–as close to the Tesla model 3 as they can get, likely around the $45,000 USD mark.
DESIGN CRITIQUE
FRONT A bit disappointing in that it too much resembles the new Nissan Z. Also looks Porsche like. Black portions to the ends look unfinished probably air intakes, but don't they add to the drag?.
SIDE Very aggressive side profile, high cut wheel wells, a lot like Porsche Panamera but smoother.
REAR Again Porsche like with full width tail lamps. The rear spoiler looks ponderous but is no doubt functional (Love to see it without the spoiler-might look like a '51 Chevy fastback). Carried over from the concept car but still jarring contrast is a pair of vertically-stacked LED rear foglights and a black rear diffuser.
INTERIOR Way too disco for me. Maybe that will bring in the millennials? Hope some of the 64 color choices for altering interior lighting are more subdued.
IN SUM: Porsche will have to try hard to distance their cars from this, especially when this could steal sales from the Taycan at $40,000 less.
The Koreans originally were thought of as always one step behind the Japanese in design but this car shows an aggressiveness that makes Toyota and Nissan look old fashioned. All they need to do is make the nose more exciting.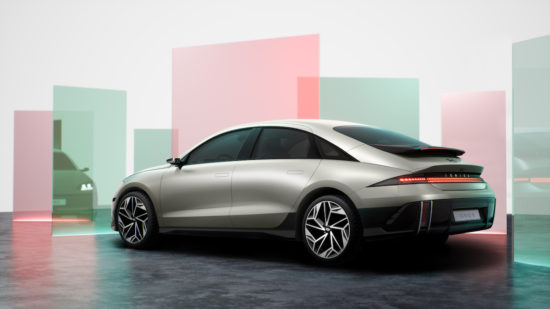 Let us know what you think in the Comments.
THE AUTHOR: Wallace Wyss comments weekly on design as co-host of "Autotalk" presented on KUCR FM Riverside.







Photos compliments of Hyundai.
Summary
Article Name
Description
Basically the Hyundai Ioniq 6 is the Hyundai Prophecy concept from 2020 made more usable. It ought to be worrisome to Porsche that it looks Porsche.
Author