by Wallace Wyss –
I've seen 427 Cammer-powered big block Cobras before but turns out it wasn't until years after Shelby built them using pushrod big blocks, either a 428 or 427 ,that folks began gilding the lily by adding Ford's fearsome cammer.
Shelby's right hand man, Al Dowd, told me in an interview in 1976 that they made $200 more on a Cobra if they sold a street 427 with a 428. "If you looked like a weenie we sent it out with 428," he said.
CSX3270 was originally a street car without all the racing equipment. The S/C cars came about when Shelby goofed in getting enough built in '65. The FIA inspector appeared and began counting cars and there were only 51 instead of the needed 100 so no homologation as a production car was granted (and yet the 260 Cobra was homologated when only a few had been built). The Comp car was still too slow to catch prototypes. So Shelby had a whole lot of cars sitting around when a salesman said "let's put enough street equipment on it to sell them as street cars."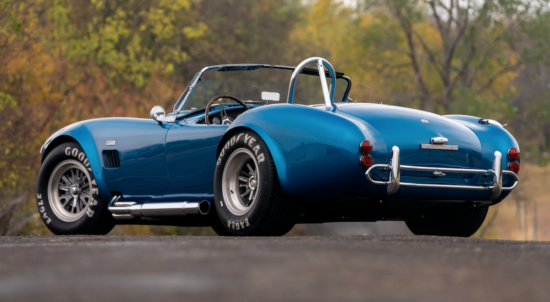 This car was converted to its S/C appearance in 1971 with additions including a hood scoop, Halibrand wheels, a roll bar, side pipes, a comp fuel cap and S/C lips on rear flares. In 1981 the car was converted to Competition spec by Geoff Howard of Accurate Restorations in Danbury Connecticut.
The 427 CI engine was built by expert Joe La Pine of Danbury Competition engines. It has ported and flowed aluminum heads, but Mecum doesn't say what happened to the cammer engine which is a collector's item in itself. The suspension received a full Competition treatment by Howard including boxed and reinforced A-arms, Koni shocks, braided lines, bronze bushings and hardened steel sleeve inserts and grease fittings.
As a model as to how it should be configured as an S/C, the suspension design was replicated from CSX3002, a factory team race car that Howard used to own. Mecum says the car is the result of a no-expense-spared cosmetic and mechanical restoration completed in 2022 where the body was stripped to bare metal and then finished in Guardsman Blue.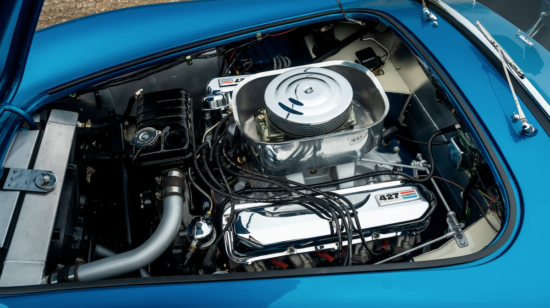 I poked around on the net and found a picture posted in 2004 of a 427 with that same SN having a cammer. Two references said it was owned by Carter Getty (Ghetty? Getti?) a dealer, but I thought he owned the ex-Hertz gold car unrestored, now in California. Maybe as a Ford dealer, he owned several Cobras in a row. Mecum doesn't say anything about a cammer so I was wondering if it would gave fetch more at the auction if it still had that ultra rare engine?
When they sold a genuine S/C, CSX3006, at Monterey in 2022 it didn't have the chrome grille cavity protector they have on this one. True comp cars didn't run with those, so it's hard to say if that will affect it, whether it will top CSX3006's price. But I wouldn't sweat some cosmetic detail that can be removed in minutes.
I asked the opinion of the eagle-eyed readers at a site called SAAC Forum and one expert opined "Original is where the money is. Even converting it to the more desirable S/C will rate a deduction and/or pass in the eyes of some buyers. If the SOHC had been put in and documented at SA then that's the engine it should have. Being in it now you'd expect to only see the cammer/stock head engine value increase not a higher oddball factory built increase."
So I think you have to look at it like a car that's been through a lot in seven decades or so but it's now back to the original type engine. I happen to be in horse breeding as a hobby and once a thoroughbred is registered, it's still a thoroughbred even if it's carrying kiddies around an oval at the State Fair. So this car's frame checks out and it's been documented, that cammer was just a passing phase. Back in the '60s and '70s big block Cobras weren't so valuable, so you saw several customized.
Mecum is estimating it will fetch between $1,500,000 – $1,700,000 and I think they are right. A new buyer could enjoy it and, when it comes time to sell, convert it back if, by that time, to dead stock if that's what tops the value charts at that point in time.
I wish Shelby had offered it with a cammer but let's face it, the car already takes an expert to drive if you want to stay right side up. More power it don't need….
Let us know what you think in the Comments.
THE AUTHOR: Wallace Wyss is a Shelby biographer who was invited to visit Shelby-American in 1965 where he was introduced to a car called the 427 Cobra. He pledges to have two of his ten Shelby-related paintings in the same auction, which, at this point, has almost a dozen Shelby Mustangs scheduled for the auctioneer's gavel as well as the Cobra.
Photos compliments of Mecum Auctions.
Summary
Article Name
Big Block Cobra Coming Up at Mecum Auctions in Kissimmee 2023
Description
Shelby Cobra CSX3270 was originally a street car without all the racing equipment. The S/C cars came about when Shelby goofed in getting enough built in '65.
Author