by Wallace Wyss and David Lawrence Silver –
O.K. admit it, the Chrysler Crossfire got by you. It came. It went. Gone forever.
You never see them.
But we are here and now putting forward the contention that it's the next collectable–the next car to buy.
Fast appreciating? No.
Fun to drive? Yes.
Rare? Yes.
Chrysler Crossfire
The Chrysler Crossfire was the progeny of the marriage of Daimler and Chrysler. At first it seemed Daimler was proud of its American spouse, giving them chassis to build cars on for the American market (the Chrysler 300 is still built on an ancient Mercedes chassis design).
But then, for some mysterious reason, Daimler soured on Chrysler and couldn't wait to dump their American spouse at a loss.
The Chrysler Crossfire was a child of that marriage and we've decided that, roughly ten years on, it is worth talking about, worth remembering and worth buying.
One reason it's worth remembering is that the final product, the production car, retains a lot of the original art deco touches that made the Concept so fresh and exciting. True, Chrysler threw out the split windshield, and the "spine" that reminded you of a Bugatti Atlantic but the Crossfire show car still looked different than anything out there at the time.
What makes production Chrysler Crossfires suddenly more collectable than they were is that you can find them on Craigslist.com for $6,000. That is a small fraction of their original price, which was over $30,000.
The car was first introduced as a coupe. Then came the roadster, also soon after came the SRT6 versions of both Coupe and Roadster.
The beauty of the car, besides its nice finish inside and out, is that it was a "purebred" underneath–a Mercedes SLK roadster.
Under the bonnet was a 3.2-liter 90-degree V-6, 18-valve SOHC engine available with a six-speed manual or a five-speed automatic transmission.
Chrysler Crossfire Roadster
Now we consider the roadster to be the more collectable of the two. The coupe is, true, more like the prototype in styling but the convertible is sportier.
Unfortunately it is not a hardtop convertible which we believe Mercedes already had in the pipeline but for some reason they considered the hardtop not necessary to sell the open version or didn't want to steal sales from Mercedes. And there is a faction in car design studios that feels convertibles should have cloth tops. Not saying it's right, but it's more traditional.
The Chrysler Crossfire roadster had a bit of a tapered, 'boat tail' appearance but not as much as the coupe. The whole design played up the sports car's mammoth rear wheels.
Both the coupe and the roadster had a gadget worth loving the car for–a retractable spoiler which extends itself on little arms when the car reaches 60 miles per hour. The center high-mounted stop lamp (CHMSL) runs the width of the deployable rear spoiler.
On the roadster, there's two race-inspired fairings integrated into the top of the tonneau cover to give it a modern look.
One thing I think was a bad decision was the metal surround of the convertible top boot was not chrome but black finished metal, which makes the car look cheap. What's wrong with a little chrome to doll a car up?
Oddly the car had 19-inch rear wheels and 18-inch in the front. That gave it an aggressive stance, but if you had a flat what if you had the wrong size spare? Actually it gets worse–there was, in fact, no spare, just the air inflation bottle and your auto club card which calls the tow truck.
Chrysler claimed only one out of every 150,000 people endures a flat, so why bother with having a spare tire to cope with that? Sounds fine until you have a flat. Unfortunately that is the way of the world with many cars now we're ten years down the road.
Another styling faux pax was the grooves in the hood. Now we can remember, in the Chris Craft speedboats of the 1930s, the wood in the bow had grooves because each is a separate piece but you lost us–tell us again why this is useful in a car?
THE INTERIOR
The Chrysler Crossfire interior looks like a lot of brushed metal, which, sign of the times, get used to it, is plastic. Still it's a nice satin finished plastic. And with certain colors of leather, was, and is, beautiful.
Seats were done in leather with Chrysler's signature winged badge embossed into both headrests.
Precise, elegant gauges are traditional white-on-black with a black bezel and satin silver trim ring. This beautiful interior could benefit from a high quality cover.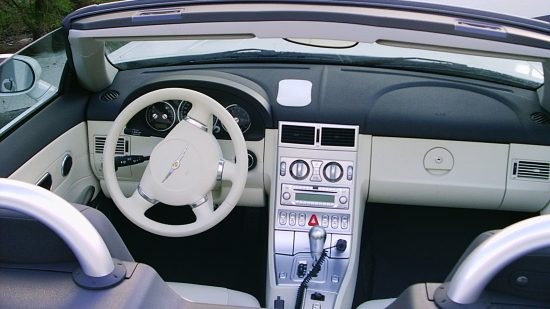 GRAND PLAN GOES SOUR
Chrysler Group planned to build 20,000 Crossfires per year, with approximately 15 percent of production destined for markets outside North America.
Fans of the Karmann Ghia will be surprised to find out that the car was built by Karmann, who not only built the Karmann Ghia but some Porsche 356 cars.
THE ENGINE
The 3.2-litre V-6 engine powering Chrysler Crossfire was manufactured at Daimler Chrysler's V-engine plant in Úntertuerkheim, Germany.
This all-aluminum, SOHC, 18-valve engine weighs just 140 kg and produces 160 kW and 310 Nm of torque. We drove the cars and remember them being light, responsive, smooth-revving and ultra-reliable.
The engine was designed to deliver high torque across a broad band of engine speeds. While maximum torque is generated at just 3,000 rpm, over 90 percent of maximum torque is available from 2,600-to-5,300 rpm, and 98 percent is available from 3,000-to-4,500 rpm.
Chrysler bragged at the time the car would go from 0-to-100 km/h (62 mph) in just 6.5 seconds.
THEIR OWN AMG
Now Mercedes has the AMG prefix for highly tuned cars you can buy off the showroom floor. Chrysler's name for their tweaked cars is SRT so there was an SRT version. The Chrysler Crossfire SRT-6 featured a hand-built 330 hp 3.2-liter supercharged engine, with a more performance-tuned ride and handling.
The only trouble is that SRT version threw out the extendable spoiler that normally hid in the rear deck and put in its place a fixed in place "dumb" spoiler that looked left over from some muscle car of the '60s. True it had a lot more square inches and no doubt laid down more downforce, but it wasn't trick like the extendable spoiler.
Plus the SRT was only available with an automatic instead of the six speed manual. What's the sense of having an automatic on the performance version?
We looked up the numbers made and while it shows Chrysler fell far short of their total production goal, the number produced is small enough so that you can consider the car rare, and thus, because of their fun quotient in the driving category, potentially collectable.
A really small production number would be like 1400 Gullwing coupes but today "small" is around 10,000 units of a car. This is seven times that but still a small number, especially when you separate out the open cars, and the SRT cars.
The beauty of it is that it has Mercedes Benz engineering and Karmann ain't no amateur coachbuilder either. There is at least two clubs to join so you know where there's service and parts, and I don't think there's another car at that price that has the fun driving and the rare looks. We are putting it way ahead of the Cadillac Allante, another two seater sold in America but bodied in Europe, and the TC by Maserati, which is a mediocre assemblage of parts.
OK we admit it. The car was a flop. Put it down to bad timing. Looking back on its short run from the viewpoint of 2016, we have since seen a re-emergence by the big Detroit Car Companies into the retro high performance market.
The new muscle cars are highly sought after not only by the youth market, but by the group that is now turning 50 who loved their Camaro or Firebird or Mustang back in the day. Retro style connoisseurs strive to get muscle cars to move them to exhibitions or to proudly drive city streets. Retro is in and is the King of Cool on the streets.
Back when the Chrysler Crossfire came out, there had yet to be the high performance retro re-introduction revolution, and the Crossfire was forced to survive on its looks and performance, in a very narrow hi-performance market at the time.
Plus it was sophisticated, not muscle bound like the later retro-inspired muscle cars. And high priced, I mean $32K to $35K was a lot of money for a little two seater back then.
European Styling
The Crossfire mostly appealed to a more sporty set with an appreciation of European Styling. This demographic niche yearned for European Sports-car handling and characteristics instead of stop light to stop light speed, and the America Apple Pie Retro Hi-Po look.
Fact is, sadly, this little jewel was soon lost among all the white noise, most likely. When the Chrysler muscle cars began to sell like crazy, nobody wanted that little Euro-car.
The car was sold in several countries, so in some countries it is going to be extremely rare. Good luck on being able to order body panels in those countries but at least the car's mechanicals can be serviced at a Mercedes mechanic. And if you join a Crossfire owner's club you'll soon hear of crashed cars being stripped of parts and be able to buy body panels if you prang yours (thank God for car clubs, keeping so many cars alive…).
So going by the low price they are now we would home in on the rarest sub-model, and an open car in place of the coupe, thus an SRT roadster. The only trouble is, it only came in automatic and it had that "dumb" rear spoiler.
Let us know what you think in the Comments.
THE AUTHORS: Wallace Wyss is the author of the "Incredible Barn Finds" books from Enthusiast Books (715) 381 9755 and David Lawrence Silver is a collector of rare and exotic cars, based in Willow Springs, California.
Summary
Article Name
Future Collectable: Chrysler Crossfire
Description
The Chrysler Crossfire was the progeny of the marriage of Daimler and Chrysler and is a future collectable car.
Author
Wallace Wyss and David Lawrence Silver