With the many car events canceled due to the coronavirus pandemic we will not see the car action we are accustomed to at this time of year. I thought it would be a good idea to reach back into the My Car Quest archives and occasionally re-post certain articles with photos of interesting cars and events to help us get through.

This is the eighth of the My Car Quest Archives Series – Iso Grifo No. 009 And Bizzarrini GT 5300 No. 0256 Together – Side By Side – July 2013 at the Hillsborough Concours d'Elegance.

Mike Gulett, Publisher
by Mike Gulett –
It is a treat to see a beautiful Iso Grifo next to a beautiful Bizzarrini GT 5300 Strada. This is not a common site and it is made even more special because these two were Class Winners for their respective marques at The Quail, A Motor Sport Gathering in August 2012 in Carmel, California.
The video below is 3:58 long.
This event was the Hillsborough Concours d'Elegance on July 21, 2013.
Iso Grifo No. 009 won its class at this Hillsborough Concours. The Bizzarrini GT 5300, chassis No. 0256, was display only but was invited to the podium for the Parade d'Elegance.
Let us know what you think in the Comments.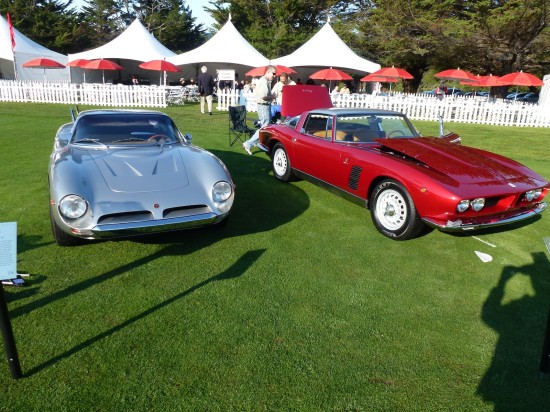 Summary
Article Name
Iso Grifo No. 009 And Bizzarrini GT 5300 No. 0256 Together - Side By Side
Description
It is a rare site to see a Bizzarrini GT 5300 parked next to an Iso Grifo at a car show - and both cars are award winners.
Author