The big event on Friday of Monterey Car Week is The Quail, A Motor Sport Gathering. It is an expensive event with limited tickets available. However, with a ticket all the food and wine you want is included in addition to the really cool cars.

Today we reach back into the My Car Quest archives and re-post The Lamborghini Espada And Islero At The Quail – 2018. This is the fifteenth of the My Car Quest Archives Series.

I do hope you all are staying safe and healthy and that you enjoy these flashbacks as a reminder of what next year can be.

Mike Gulett, Publisher and Editor
by Mike Gulett –
Eleven Espadas and ten Isleros were at The Quail, A Motor Sport Gathering on Friday August 24, 2018 in Carmel, California celebrating the 50th anniversary of each model.
This must be the largest gathering of Espadas and Isleros since the factory stopped making them.
One of the Espadas was mine and I had a visit from two well known TV personalities (Jay Leno and Wayne Carini), plus Valentino Balboni (the famed Lamborghini test driver) and other interesting car lovers during the day. The President of Lamborghini presented the car owners with certificates of authenticity for each of our cars.
Lamborghini Espada
The Espada seems like a big car from the outside and is very low to the ground. From the inside you see there is enough room for four normal sized adults to ride in comfort. It is a real GT (grand touring) car with room on the inside and the looks of a sports car.
Lamborghini intended this to be the family GT car for long road trips. It was in production from 1968 to 1978 and is less than 47 inches from the ground to the top of the roof. Compare that to the Bizzarrini GT 5300 which is 43 inches high! The Bizzarrini was designed to be an all out race car and the Lamborghini was designed to be a family car.
If you see an Espada with other cars around it will likely be the most startling looking car. This is not a car for shy people, it will attract attention, like it or not. The styling is by Marcello Gandini at Bertone and a little more than 1200 were made from 1968 to 1978.
Lamborghini Islero
The Lamborghini Islero was the replacement for the 400GT and was manufactured between 1968 and 1969 with a total of 225 examples being made (100 of those were the 'S' version with 350 hp compared to the base model with 325 hp). It is essentially a rebody of the 400GT and is closely related to the Espada. The styling is by Mario Marazzi at Carrozzeria Marazzi.
Lamborghini V12 Engine
Under the hood of both the Espada and Islero is the Giotto Bizzarrini/Giampaolo Dallara designed V12 aluminum alloy masterpiece of an engine with its 4-camshafts and six Weber carburetors feeding fuel to the nearly four liter displacement.
Some say that the Islero was Ferruccio Lamborghini's favorite although the Espada sold many more. Which one do you like best?
Let us know what you think in the Comments.
More photos are in the slide shows below.
Summary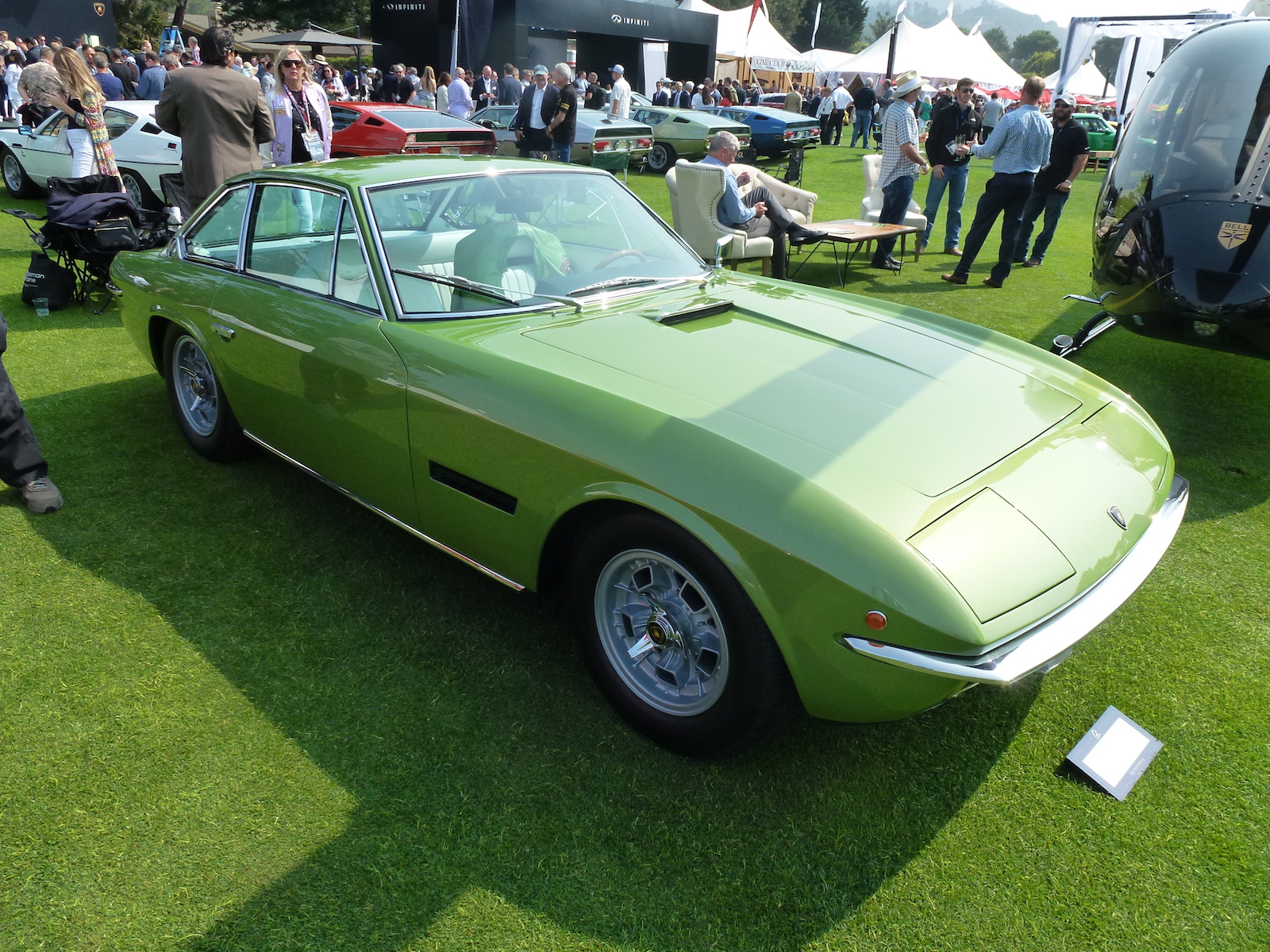 Article Name
The Lamborghini Espada And Islero At The Quail - 2018
Description
This must be the largest gathering of Lamborghini Espadas and Isleros since the factory stopped making them.
Author